Samsung Galaxy M10 Review: Big Battery Doesn't Make You Angry | Droidcops
A smartphone is made to make it easier for users to do many things. Apart from calling, cellphones can be used to take pictures and record, watch videos, listen to music, and even exist on social media. Even We Are Social data reveals that 142.8 million people or about 53% of the total population of Indonesia have access to the internet by mobile.
This means that a smartphone has an important function for users, namely, as a device to stay connected, facilitate daily routines, and connect them with the people around them. To continue to stay connected, of course, you need a cellphone with a long-lasting battery, at least it can accompany users on all day diving activities.
Well, if you are looking for a large battery smartphone at a low price, maybe you can glance at the Samsung Galaxy M10. This latest Samsung cellphone in 2019 has a battery capacity that lasts all day, so you don't have to worry about running out of battery power in the midst of your daily busy life.
Because this smartphone will be #SobatAntiLowbat appropriate to support activities. Not only that, to support optimal performance, the Samsung Galaxy M10 is equipped with an Octa-Core Exynos 7870 processor which is quite capable. Not including several other features that can be used to support your productivity.
The Samsung Galaxy M10 itself is available at Blibli, Lazada, JD.id, Erafone, Telesindoshop and Samsung.com.id. Here's our experience using this large battery cellphone which is priced at Rp. 1 million.
Design
The Samsung Galaxy M10 is indeed priced in the millions, but the design it has is quite interesting. The entire design is made of a smooth acrylic material. This design complements its thin body, so it looks neat and attractive.
The Samsung Galaxy M10 itself is only 7.7mm thick and weighs around 163g. The advantages are not too prominent when put in a trouser pocket. And most importantly still very comfortable when in the hand.
Not much has changed for the placement of the buttons from other Samsung phones. On the right side for example, you can find the power and volume buttons positioned together. This position is quite ideal, because you can access both buttons with just your thumb.
In the back area, Samsung placing the dual main camera complete with LED flash along with the Samsung logo and speakers placed sideways. Then at the bottom there is a 3.5mm audio jack, microUSB port and Mic. While at the top there is only a mic without additional ports or other buttons.
To access the SIM card slot is on the left side. Interestingly, the Samsung Galaxy M10 offers three slots with a configuration of two SIM card slots and one external memory slot. What luck? To be sure you can use two SIM cards at the same time plus microSD memory simultaneously.
Because there are some smartphones that still use a hybrid SIM slot, which requires users to choose to use two SIM cards without a microSD or use one SIM card and one microSD. As for the color options, you can choose the Samsung Galaxy M10 in the Charcoal Black or Ocean Blue variants.
Screen
Switch to the screen section. This 1 million cellphone looks contemporary with a screen using a small notch. Samsung calls it the Infinity-V display technology. Infinity-V display technology makes the Samsung Galaxy M10 screen have a screen-to-body ratio of up to 90 percent with an aspect ratio of 19: 9. Of course the screen view becomes wider, perfect for those of you who like to watch.
The screen size is 6.2 inches and HD + 720 x 1520 resolution. This screen has a color depth of up to 16 million with a PLS type panel. One of the advantages of PLS ​​screens is that they have a 10% higher contrast than IPS. And we really feel it, where the Samsung Galaxy M10 screen looks bright with quite natural colors.
We also feel comfortable even though the screen is only set at a brightness level ranging from 20-25 percent. Images such as photos, icons and text are still clearly visible. So to get a good view, you don't need to shift the screen brightness level to the maximum position. So it can save more battery power. Because one of the components that drain the most power is the screen.
Likewise when watching videos, where the screen is able to display good contrast. Night scenes in a film become more clearly visible. To be sure, watching videos on the Samsung Galaxy M10 is also quite satisfied through its spacious screen.
Multimedia Features
With a wide screen, the Samsung Galaxy M10 can be a smartphone for comfortable watching videos. But not only that, it turns out that there is still other fun on offer. In the multimedia sector, this 1 million best cellphone supports Widevine L1 Certification.
Maybe many don't know, so this certification serves to play HD or high definition live streaming content. This means that you can enjoy streaming content in high resolution that is comfortable to view.
Plus the Dolby Atmos audio technology will make your multimedia experience even more enjoyable. Even at the highest settings, the audio quality that is issued feels loud and does not break. We are quite satisfied to enjoy multimedia content on this Samsung Galaxy M10.
Camera
For those who like photography, there is no need to worry. Although the Samsung Galaxy M10 is marketed at a price of one million, it doesn't mean lowering the quality, especially on the camera side. Because this large battery cellphone retains the dual rear camera feature with a 13MP + 5MP configuration. For its composition, the 13MP camera sensor has an aperture of f/1.9. With this large opening, the Samsung Galaxy M10 camera can produce bright photos even in minimal weather.
Meanwhile, the 5MP camera sensor is a 120-degree ultra wide angle camera with an f/2.2 aperture. The advantages of this ultra wide angle sensor allow you to produce wide angle photos with narrow shooting angles. For example, a photo with a large family in a house that has limited space. With the ultrawide sensor, all existing objects can fit into the photo frame. The method is easy, just press the icon on the screen and the camera system switches to the ultrawide sensor automatically.
As for other camera features, you can take advantage of the Live Focus mode to make beautiful bokeh photos. But make sure the distance between the photo object and the camera is in the right position, meaning not too far or too close. The results of the bokeh photos on the Samsung Galaxy M10 are no less than the more expensive cellphones. For other features, there are panorama, pro, beauty, AR stickers and continuous shot modes. Complete enough to explore your photography hobby.
Now shifting to the front camera, where a 5MP sensor has been installed. This selfie camera is supported by an f/2.0 aperture which is equipped with an in-display flash facility. In our opinion, the presence of this feature is very helpful when taking selfies in low light conditions. But make sure the distance between the camera and the object is not too far. You can also add unique and funny stickers to make selfie photos more interesting.
Samsung Galaxy M10 photo results:
Normal photos without ultra wide angle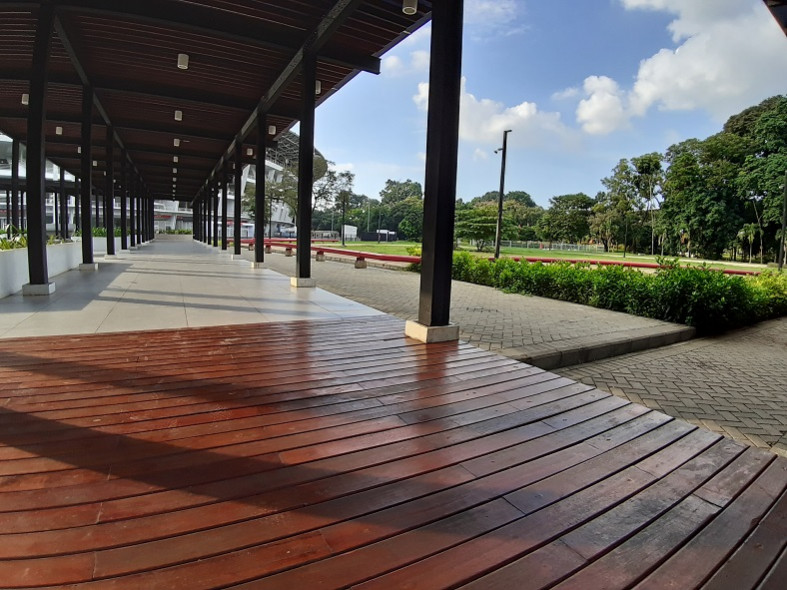 Ultra wide angle photos
Bokeh photo results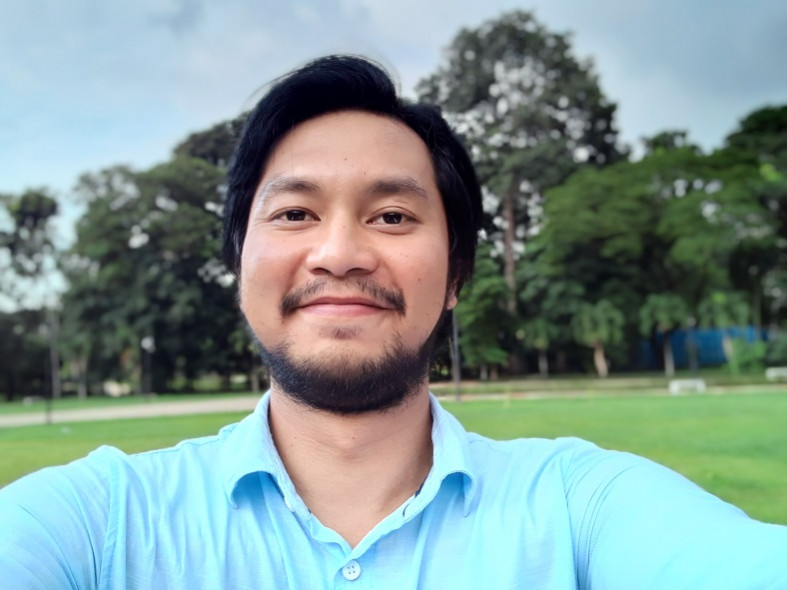 bokeh selfies
Performance
Well, now is the time to try out the performance of the Samsung Galaxy M10. Previously, it was informed that the specifications of the Samsung Galaxy M10 are powered by the Exynos 7870 chipset. A processor made by Samsung that has a speed of 1.6Ghz. This processor will be supported by 2GB RAM memory and 16GB ROM with the option of enlargement up to 512GB.
These specifications are still quite okay to accompany daily activities, ranging from browsing, chatting, being active on social media, taking pictures of interesting objects, watching videos or listening to songs. From the software information on the Samsung Galaxy M10 that we tested, this cellphone runs on Android OS 8.1.0 Oreo with UX Samsung Experience 9.5. To further save internal memory, files with large sizes such as photos, videos or songs should be stored in external memory.
How about gaming? No need to worry, because you can still play popular online games like PUBG smoothly. For graphics, the settings are balanced with a medium frame rate. At least, playing PUBG games on a million-priced cellphone like the Samsung Galaxy M10 runs smoothly.
3,400mAh Big Battery
The battery is one feature that is quite helpful for activities. In normal use such as browsing, chatting, social media, the Samsung Galaxy M10 battery can last all day (from morning to night). In our records, for daily use from 66 percent battery capacity to 1 percent the battery lasts for 9 hours 18 minutes.
The table can be shifted left or right
Conclusion
The Samsung Galaxy M10 comes with several surprises, one of which is in terms of price. Where the price tag of the Samsung Galaxy M10 is sold in a million, this cellphone offers a large battery capacity, dual cameras, a spacious screen with Invinity-V Display technology. With its large battery, the Samsung Galaxy M10 is perfect for those of you who want to stay connected. What is certain is that you do not need to be angry all day with your Samsung Galaxy M10.
Also check the video review of the Samsung Galaxy M10 on the Droidcops Youtube channel below: