Samsung Galaxy Buds Live Review: Lots of Interesting Changes | Droidcops
In early August 2020, Samsung introduced a new series of new products, one of which was earbuds. Yup, named Samsung Galaxy Buds Live, Samsung's latest earbuds offer a lot of changes.
Where Samsung creates a new direction of earbuds with an iconic design. A new take on the future of wireless earbuds. It even looks different from the previous Samsung Buds.
Not only in design but also in technology, because Buds Live is equipped with the Active Noise Cancellation feature. Not including the sophistication of AKG 12mm speaker technology and a larger bass duct.
Well, recently Droidcops arrived with the latest Samsung Galaxy Buds Live with an attractive color, namely Mystic Bronze. The price of the Galaxy Buds Live itself is priced at IDR 2,599,000.
Immediately, let's see our experience while using Buds Live.
Design
By design, Samsung made a pretty big leap between the previous generation Galaxy Buds+ and Buds Live. Not only physically, but also from the type of sound presented.
If you are a Galaxy Buds + user, you can certainly see a significant change in shape. Galaxy Buds Live is now made 'elongated' which at first glance looks like a bean. No more thin rubber covering the speaker.
How to install Buds Live also does not need to be pressed too deep, just place it outside the ear canal. Because, if you enter it too deep, it will close the speaker hole which is next to the earbuds. At the same time cover the sound that comes out of the earbuds.
Luckily, we have ear sizes that fit the earbuds, so there's no need to fiddle around to find the right position. Although only placed outside the ear canal, the earbuds are quite secure.
Not susceptible to detachment even when moving though. Even when we used it for light running, the Buds Live was still firmly attached to the ear. For appearance, the Galaxy Buds Live has a glossy finish on the outer surface.
While the inner side which is facing the ear uses a matte texture. What is clear, Samsung has completely changed the appearance of Bds Live from the previous generation. And that's what we like.
Charging Box and Color
Changes are not only in the earbuds unit but also the charging box. Compared to Buds and Buds +, Galaxy Buds Live comes with a box-shaped charging box.
It has been made using 20% ​​recycled Post-Consumer Material (PCM). Using a glossy finish, the appearance of the Buds Live charging box looks like a luxury jewelry box.
The shape is kept to a minimum and not much space is left. That's why, the size of this device's charging box is quite small so it's easy to put in a pocket, shirt or pants.
Then secondly, Galaxy Buds Live comes with unique and attractive colors. There are three color options presented, namely Mystic Bronze, Mystic White and Mystic Black. Not without reason to bring these colors.
Because this color is adjusted to five other new Samsung products, one of which is the Galaxy Note 20. So Galaxy Note 20 users can match the colors of their smartphone with Galaxy Buds Live.
Open Type earbuds
Before reviewing the audio quality produced by Samsung's latest earbuds, there are things you should know. Especially for those of you who previously used Galaxy Buds+.
Galaxy Buds+ are 'canal-type' earbuds, while Galaxy Buds Live are 'open-type' earbuds. What is the difference between these two types of earbuds?
Citing Samsung, canal type is a type of earbud that is used into the ear to cover the ear canal. The advantages of this type can provide immersive sound quality or create multi-dimensional sound that completely envelops the listener.
But the drawback is that it can cause discomfort if used for long periods of time.
While the open type applied to Buds Live, the use of earbuds does not have to reach the ear. This means simply tucked in the outer ear. This position will facilitate air circulation and provide comfort when used for a long time.
But the weakness is that the sounds around you will be heard clearly, for some users it might be a little annoying. But as long as we can enjoy it it's not a big problem.
And one thing that is no less important is that we still feel comfortable even though the earbuds are still attached for hours.
Active Noise Canceling feature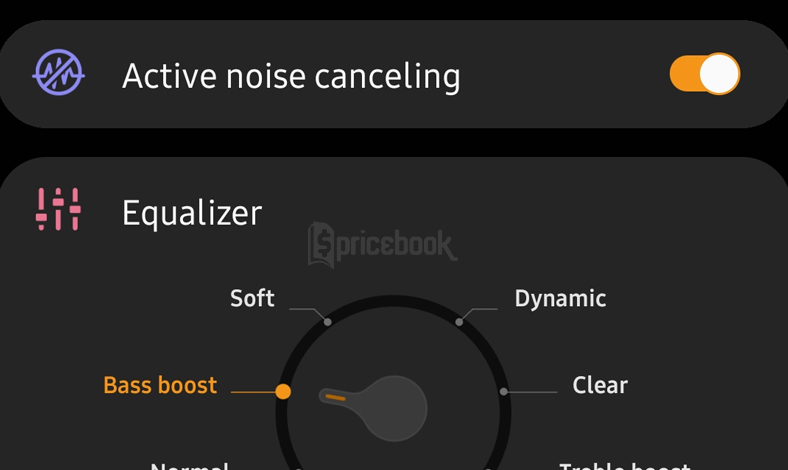 One feature of the Samsung Galaxy Buds Live that is touted as the best improvement is Active Noise Canceling (ANC). For those who don't know, in short, ANC is a silencer system on the earbuds that is useful for reducing the sound around you.
To activate the ANC feature, simply open the Galaxy Wearable app that is already connected to Buds Live. But honestly, it must be said that the ANC feature on Buds Live does have little effect.
Either because of the influence of using open type or other things, even though the ANC feature has been activated we can still hear the voices of people talking and the sound of the horn that sounds quite clear.
But there are positive things, because we can be more aware of the circumstances around us, especially when used for exercising on the road. Because we can still hear the sound of passing vehicles.
Performance
Now let's talk performance. Broadly speaking, the Galaxy Buds+ and Buds Live have a lot in common in features, including how to connect them with the Galaxy Wearable app.
Like the use of a Bluetooth 5.0 connection which offers better speeds than the previous generation. Then it provides various equalizer settings, ambient sound, game modes, and more.
But from our experience, Buds Live is a bit smarter and faster when it comes to connectivity. When reviewing the Galaxy Buds + there is still a long lag time to connect.
Meanwhile, Galaxy Buds Live can immediately detect the device when the charging box is opened, without having to open the application. The device also has an audible notification that indicates when the earbuds are ready to connect.
The touch control function is also very responsive, you don't have to press it hard, just touch it where it fits. It was so responsive, we had to be careful when we wanted to change the position of the earbuds because it would activate the touch control function.
Regarding the touchpad, there are several functions that can be done as follows:
Touch 1x to play or pause When listening to music
Touch 2x to play next music and answer and end phone calls
Touch 3x to go to the previous music
Touch and hold to reject the phone call
How is the audio quality? For those of us who are still cloudy about audio, for the size of open type earbuds that don't cover the ears completely, the sound produced by the Galaxy Buds + is very good. The bass is punchier, even when compared to the Buds+.
The AKG technology applied to this device is quite pronounced, especially for music in the pop, hip hop and rock genres. For maximum sound, we recommend using a music application that has an equalizer setting.
Or connect to a smartphone that is equipped with Dolby Atmos technology. The result is getting better.
For voice call quality, the Samsung Galaxy Buds Live is equipped with three built-in microphones that are supported by the Voice Pickup Unit. These two features are claimed to provide the best voice call quality.
Where technically the Voice Pickup Unit feature will detect when the jaw moves, and when the jaw vibrates, the data is converted into a voice signal to produce better sound quality.
And it is quite proven. Two-way communication runs smoothly, the other person can hear our voices clearly and clearly. Not only that, we are also quite comfortable using Buds Live as a means of communication to conduct online meetings.
The process of sound output and input are equally heard with good quality.
Battery
Battery is important on all devices, and the Galaxy Buds Live is no exception. In the official release, Buds Live has a battery that can be used for 6 hours of use and 21 hours with support for a charging box.
Although it is sufficient for an earbud, the battery life is still inferior when compared to the Galaxy Buds Plus which offers 11 hours of use.
But apart from this, for everyday use it is still quite supportive. Suitable for use when traveling short distances or accompanying jogging activities around Senayan.
From the results of usage, listening to music for 30 minutes the battery decreased by 10 percent. Then one hour of battery usage on Buds Live dropped 22 percent.
Now to charge the earbuds using the charging box, from the remaining 5 percent to 100 percent it takes about 1 hour 25 minutes.
Meanwhile, to charge the charging box itself, it takes at least 2 hours. Oh yes, Buds Live also supports wireless battery charging.
The table can be shifted left or right
Conclusion
Samsung did make major changes to the Galaxy Buds Live. The most significant is of course the design, both in terms of shape and type of audio output. But as a device with a new 'format' of course there are positives and negatives.
However, according to Samsung, all changes have been made based on research to provide user comfort. In our opinion, these latest earbuds are indeed quite comfortable to use.