iBacks ZELLO, TWS Shape But Sounds Cinema | Droidcops
iBacks may be better known as a manufacturer or trademark of iPhone support accessories and also premium quality flagship cellphones.
Starting from the charger adapter, Apple's 3 in 1 wireless charger, large capacity power bank, couver guard or cellphone case, to various models of the best cellphone support quick chargers.
But lately, in order to strengthen itself as the king of premium accessories, iBacks has started to present a variety of new products.
One of them is TWS iBacks ZELLO which is present at Droidcops's editorial desk. Comes with elegant, simple packaging and not too many ornaments like other TWS brands which tend to come with large packages.
Is that the only thing that's interesting? Of course not, many things actually amazed us even more after opening the packaging and trying to use it.
Starting from the character of a sound that is balanced but powerful, a slim design that is comfortable in the ear, to responsive and effective gesture features. For more details, here we present a review of TWS iBacks ZELLO.
Design
The iBacks sport a sleek, elegant design, and this is very evident from the TWS case details that are included. Very slim with curves that feel premium, plus a dark gray color that makes it even more luxurious but simple.
If other TWS still rely on the micro USB charging model, it is different from the ZELLO iBacks which has adopted the Type-C model which is certainly faster in charging the battery.
When viewed from the cross section to the ear piece, TWS iBacks ZELLO it has a shorter length than TWS with other longitudinal cross-section designs.
In addition, the placement of light indicators and also the operation area or gesture area that is owned is also wider and makes users more comfortable. This is because, the shape of the stem design is flattened and seems to widen so that it gives users more finger access when operating this TWS.
For ear-tips, iBacks provides several options with different sizes according to the comfort of each user.
Dual Microphone
This is what makes it different from other TWS, is the presence of dual microphones that make the sound quality clearer and clearer.
The coverage area of ​​the mic is also quite wide, and the sound produced on the other hand, in this case the receiver when making a call is even better. The presence of good Call Noice Reduction gives a different impression and makes iBacks ZELLO very comfortable.
In addition to dual microphones, iBacks ZELLO also has two stereo speakers that are clear when receiving calls or when used to listen to music and watch movies.
The existence of this dual microphone is also one of the strengths of the very useful ZELLO iBacks. Especially when using the voice command feature provided and well synchronized on each device.
In fact, when using a voice that is not too loud, ZELLO is still able to convey voice commands well on the device.
This also applies when making calls, even though in a noisy and crowded atmosphere, the recipient can still hear clearly and clearly the voice conveyed through iBacks ZELLO.
Several times there were problems with interference, but that happened because the internet power factor that we had was not good lately.
Fast Charging and Durable
Long battery life is something that is sometimes a little impossible when talking about TWS. But not with ZELLO's iBacks.
As previously mentioned, because ZELLO's iBacks have adopted Type-C in its charging case, it is certain that the battery charging capability is faster.
Not only that, the charging case is also capable of charging up to 3 times TWS recharging, said iBacks. In contrast to the results we got, the ZELLO iBacks charging case was able to fully charge up to 5 times.
Back to durable, single charge, this TWS iBacks ZELLO was able to last up to 8 hours of our use, even though the original claim given was only 7.5 hours.
The standby claim of the iBacks itself is also quite pleasant with 180 days without use. Apart from that, the use that we lauched for a week resulted in admiration for the TWS iBacks ZELLO.
Even with a smartwatch-class battery which is only 450mAh in the charging case, the durability of its use is slick.
This is because with just one charge on the charging case, ZELLO iBacks can already be used to enjoy music and movies, as well as other content such as concerts for a whole day.
In terms of durability, iBacks puts a blinking indicator which is a reminder of the strength of battery life during use.
More Comfortable with Responsive Gestures
The slim and compact design but lightweight makes it very comfortable when used all day. When using ZELLO's iBacks, you don't even feel the pain in your ears when trying other TWS.
The curve fits perfectly in the ear, the complete selection of ear tips also spoils our use during testing. The resulting solid sound quality is very pleasing to the ear, and safe to receive even at the largest volume capacity.
The bass and treble characters can also be enjoyed well without being too much in our opinion. Apart from that, the appearance of this TWS is enough to guarantee the build quality that is not frail.
Another interesting thing comes from the gestures that are applied. It's not much different from the gestures used by most TWS, what's nice is the responsive capacity that it carries.
The sensitivity is not excessive although it only requires a few small and gentle movements to use the gestures.
While other TWSs will sensitively perform gesture commands when they are lightly nudged while positioning the eartips against the ear, then not the iBacks ZELLO.
Another convenience is the very easy pairing mode, even easier than other versions of TWS. This may be due to the existence of the Bluetooth 5.2 system which is also an updated version of the latest version of the Bluetooth type on the market today.
The distance or area coverage is also very wide, we had time to test at a distance of almost 8 meters from the 1st floor to the 2nd floor, the results were very interesting. This is because ZELLO's iBacks are still capable of producing good sound at such distances and areas.
Well, for those of you lovers of gymnastics or outdoor and indoor sports who always listen to music while doing activities, don't worry about excessive sweating. iBacks ZELLO already carries IPX4 waterproof certification, and is guaranteed to be safe from drops of sweat or rain, although we don't recommend it for swimming.
Testing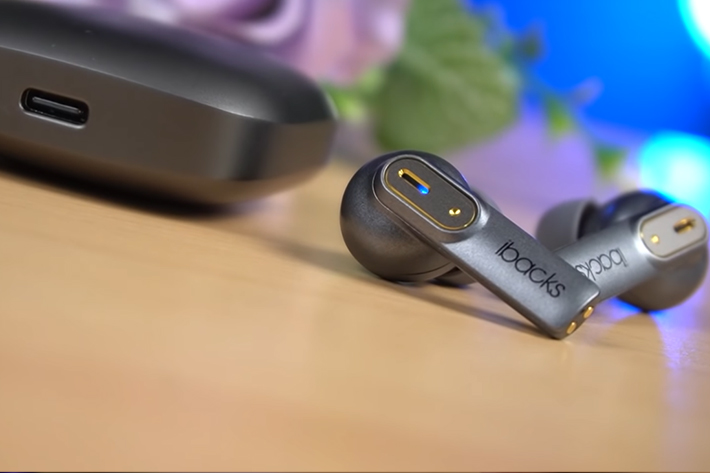 For a TWS, ZELLO's iBacks were very able to satisfy us during the testing process. We have tried listening to several types of music. As a result, the clarity of his voice cannot be denied by the ear.
The battery life in our opinion is very sufficient, because in use for one day during working hours we only charge it once after using it from 10.00 am to 19.00.
Our use is normal, had several times turned it off and on again to check the character of the pairing and automatic pairing. In addition, we also do db testing using several applications.
This is what we find interesting, testing the low frequency of 10-200Hz we really enjoy. In this section, sometimes some TWS will start to shriek when they are at 150Hz and above.
And what's surprising is that, at the high frequencies of 22kHz-8kHz which some TWS managed to hurt our ears, ZELLO's iBacks are still safe even though the squeaky at 10kHz can make a lot of noise in the ears.
For dynamic range, iBacks is able to reach -48db well and still sound clear.
One thing is for sure, if you want to feel the sensation of 7.1 Surround cinema-style directly in your ears, you can try using iBacks ZELLO. The full balance, starting from the bass, treble, and the woofer is very tasteful, and we have proven this in several tests that we did, including watching movies with a loud roar.
Conclusion
iBacks ZELLO is a TWS with a complete package of functions, it is even possible to compare it with high-end TWS from well-known brands in the Indonesian market.
The battery capacity of the charging case is quite large at 450mAh, and this is very adequate for 2-3 days of use for us. But it all depends on your habits and how you use TWS earphones.
Gestures complete with comfortable sensitivity, excellent build quality, TWS curves from the stem to the ear-tip are also very comfortable to use for a long time.